Brewer's yeast – Beauty & well-being (30 tablets)
This product is Coming Soon!
Brewer's yeast – Beauty & well-being (30 tablets)
USD16.10
Very rich in proteins, but also in vitamins and minerals.
Brewer's yeast is one of the best sources of natural protein. It is known for its extraordinary richness in nutrients, which makes it a very good food supplement and a "super food".
Compare
Directions for use
Take 1 tablet per day with a glass of water.
Composition BEER
YEAST POWDER ( GLUTEN ), STABILIZER: MICROCRYSTALLINE CELLULOSE, ANTI-AGGLOMERANTS: SILICON DIOXIDE [NANO], MAGNESIUM STEARATE.
Nutritional contributions
For 1 tablet:
Brewer's yeast: 300 mg
Precautions for use
This product is not a medicine but a food supplement based on brewer's yeast. Not recommended for children and pregnant women.Do not exceed the recommended daily dose. Keep out of the reach of young children. To be used as part of a balanced diet and a healthy lifestyle. Store away from light, humidity and heat.
Related Products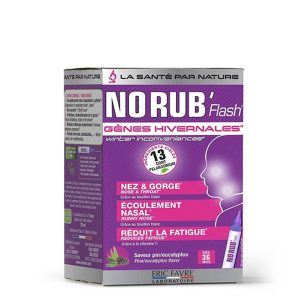 No Rub Flash from Laboratories Eric Favre ® will become your best ally for winter.
Its formula composed of 13 ingredients (including pelargonium) has been developed to act on a broad spectrum:
Echinacea helps reduce the consequences of a cold snap and the cold snap itself. It also helps to strengthen the immune system.
White broth helps reduce throat irritation and comfort the respiratory system. It also contributes to the health of the chest and throat.
Vitamin C helps reduce fatigue.
Pelargonium supports and soothes in case of tickling of the throat No'Rub Flash is also very practical thanks to its ready-to-use shots (unicadoses ® ) that can be consumed without water and taken everywhere with you.
Our advice:
Congestion of the respiratory tract, chest
Stuffy nose
Irritation, tickling of the throat
Strengthens immune defenses
Winter period, air conditioning
Box of 12 unicadoses ®
Pine-eucalyptus flavor
Ready to use shot: without water, nomadic & practical
Nose & throat
Reduces fatigue
Winter period, air conditioning
For the whole family: from 36 months
Without drowsiness
[playlist type="video" ids="2707"]